Latest News
Company News
Products News
Careers News
Brand & Logo
The Government Delegation Visit SAMCEN Company
---
The African government delegation, from South Africa, Zimbabwe, Botswana,Zambia, Sudan, Ghana, Malawi, Lesotho, Madagascar, Seychelles Etc. 24 members total, visited SAMCEN Company on July15-18 th. The whole company attaches importance to their visit, and give them a warm welcome.
In the beginning, we take a group photo in front of the building.
After that, the staff guide the guests to the meeting room. Through the process of the whole meeting, we use SAMCEN intelligent equipments, including wireless infrared intelligent conference system, fully digital voting system and camera auto-tacking system. Also, we demonstrate the Simultaneous Interpretation & Wireless Language Distribution System and video conferencing to them.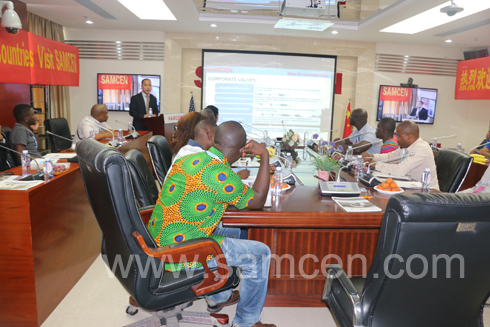 The Managing Director made a wonderful speech and introduced SAMCEN company, including congress system, intelligent traffic system, seawater desalination system product presentation. After finishing this, the representatives know more about SAMCEN, and they are very interested in SAMCEN'S products, and they are willing to cooperate with SAMCEN in the near future.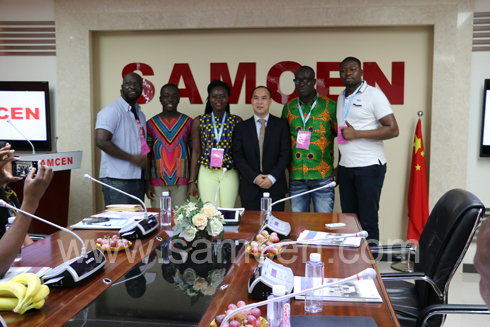 We remain the product testing time and question time for them. They are very pleased with that. They are curious about how the system works when they using SAMCEN products. We answer their questions patiently and show them how to operate sometimes. In the end, MR..CURTIS the representative from Seychelles gives us a speech. He talked something meaningful of this trip and he is thankful for our reception. He deeply felt that SAMCEN congress system can improve working effect in government organizations, and the intelligent traffic system can solve the traffic problems and the seawater desalination solutions are definitely help for water-shortage.
Last, the Managing Director takes photos with the representative one country by one country. The activity couldn't come to a happy ending without the assistance of all staff.