African delegations visit Samcen company
---
On the afternoon of Dec. 28th, 2019, at the invitation of our company, more than 30 people from African English countries visited our company. Samcen company general manager Mr. Lai warmly accompanied them to visit and make a detailed introduction to our company products.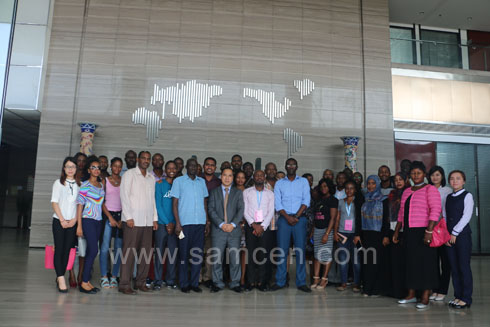 Samcen Group Co., Ltd.(SAMCEN) is a petroleum and petrochemical enterprise group, established in July 2000 in shenzhen China. SAMCEN has a registered capital of 7.5 billion USD with the board chairman of SAMCEN serving as its legal representative. The Group operates, manages and supervises state assets according to related laws.
Principal businesses of SAMCEN include industrial investment and investment management; petroleum and natural gas exploration, production, storage and transportation, sales and comprehensive utilization; oil refining; storage, transportation, wholesale and retail of oil products; production, sales, storage, transportation of petrochemical products, and other chemical products; production, sales, storage and transportation of energy products such as new energy and geothermal energy; design, consulting, construction and installation of petroleum and petrochemical engineering projects; overhaul and maintenance of petroleum and petrochemical equipments, R&D, manufacturing and sales of electrical and mechanical equipments, production and sale of electricity, steam, water and industrial gas; research, development, application and consulting services of technology, e-commerce, information and alternative energy products; import & export, including import and export agency business of selfsupport products and commodities and technologies; foreign project contracting, and purchasing, and labor export; international storage and logistics business.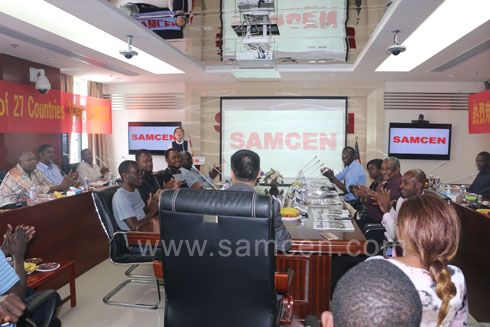 Samcen makes unremitting efforts to renovate our technology, all the equipment and products has been rigorously tested by many times, Samcen brand products have been certified by the authority. Samcen brand in the industry has a good reputation and enjoys a high reputation in the world. Samcen company uphold the people-oriented, scientific and technological innovation, modern management, large-scale production of business ideas for customers to create more perfect products to meet the industry's requirements, to provide the perfect product and meticulous and thoughtful technical services business ideas. In the process of communication, foreign friends on the company's products show great interest and enthusiasm, expect more cooperation in the future. After the visit, foreign friends are very satisfied with my company and highly praised the company's products, and take photos in the company.