Products range
Fully Digital Congress System
Fully Digital Voting Unit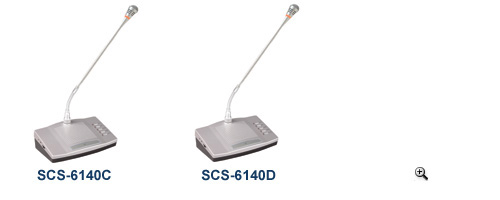 Features
Specifications
Connection diagram
PDF Download

Working with SCS-6100MA controller, provide system expansion up to 120 delegate units, can expand to 2000 delegate unites at most by working expansion host.

Indirection at microphone with red ting indicator.
.The integrated loud speaker will automatically mute to avoid howling when the microphone turns on.
The active microphone can be limited in different numbers by setting in the front panel.
Communicating in the hand-in-hand daisy-chain, easy installation and maintenance.
Based on SAMCEN originated fully digital audio processing and transmitting technology
Transmitting the high quality digital audio signals on a dedicated 8P cable
160 X32mm LCD display screen menu of Chinese and English, the voting result, information can be show on the screen.
Audio signals processed by the high performance DSP - sound quality is close to CD quality
Hi-Fi sound quality even in long range transmission
Advanced TCP/IP protocol for communication between main unit and PC
Easy to implement remote control, remote diagnosis, and remote update
Individually adjustable microphone sensitivity and EQ
4 prestored audio effect modes: NORMAL/PRESS/THEATER/PARLIAMENT
Built-in multi-channel intercom facility
Independent MIC synchronous recording
Parallel redundancy & multi-room configuration
Plug and play for all units
Communicating in the hand-in-hand daisy-chain, easy installation and maintenance.
Working with the control system to realize the function of camera auto-tracking.
Voice Control: When the controller switched to voice control, the MIC can open ON automatic while the speaker begin to speak.