SCS-8000E is a high performance embedded and integrated Multipoint Control Unit (MCU), which provides an IP-based videoconferencing bridging platform. This innovative unit is combined with integrated services such as Gatekeeper, proxy and T.120, no need of deployment of any additional device or server in existing network environment. No matter through Internet, VPN (Virtual Private Network) or leased lines, SCS-8000E performs cost-effectively with the most concise architecture to replace the conventional "platform + additional servers" structure. SCS-8000E supports efficient H.264 video coding/decoding technology and H.239 dual video stream, it also provides powerful media processing capabilities such as Continuous Presence and Intelligent Audio Mixing.
Products Highlights
- Quality Conference Result
With efficient H.264 video codec and wideband audio processing technologies, SCS-8000E can reach a DVD image resolution for videoconferencing effect and support H.239 dual video streaming standard, which allows multiple sites to share PC images with resolution of up to 1024 × 768.

- Flexible Access Capacity
SCS-8000E is configured of access capacity of 8 ~ 64 channels, with convention of 16 group meetings at the same time. Each access node supports a streaming bandwidth up to 4 Mbps. It is very suitable to multiple access networks with different bandwidth conditions such as the Internet, leased lines and LANs.

- Excellent Network Adaptability
With the embedded proxy service, SCS-8000E supports NAT/firewall transversal and allows to deploy endpoints at any place without interference of network security policy. Using Intelligent Packet Loss Recovery (IPLR) and QoS technologies, SCS-8000E ensures operation stability under various network environments, even through ADSL access from a remote site, your access quality to conference can also be maintained satisfactory.

- Powerful Conference Features
With a layout of 4, 9, or 16 sites in Continuous Presence and function of Intelligent Audio Mixing, SCS-8000E supports a perfect interactive conference with multiple parties. Conference template and conference booking command allow you to originate a conference with number of participants and various preset parameters, anytime just by simple button click. Furthermore, you may use Meeting Control System (MCS), a friendly GUI software for a complete conference management.

- High Security and Reliability
SCS-8000E gives a high-reliable 128-bit encryption mechanism to insure conference information security. Its embedded design architecture and strict authentication policy can completely protect system safety and prevent unauthorized access.

- Cost Effective and Protect Investment
With a single hardware platform, embedded design architecture integrated with services such as GK, proxy and T.120, SCS-8000E is an all-in-one solution for functions provided by multiple devices or servers otherwise. Therefore, your system setup and maintenance cost will be tremendously reduced. Since the system can be upgraded through software to higher version in terms of capacity, new protocols and features, your investment is fully protected.
Standards Followed
System standard: H.323
Video standard: H.261, H.263, H.263+, H.264, MPEG-2, and MPEG-4
Audio standard: G.711, G.722, G.722.1 Annex C/Polycom? Siren14TM, G.722, G.723.1, G.728, G.729, MP3
Dual video standard: H.239
Network protocol: TCP/IP, Telnet, HTTP, FTP, SNMP, DHCP, RTP/RTCP
Other standards: H.225, H.231, H.235, H.241, H.242, H.243, H.245, H.281, T.120

- System Capacity
Nine optional configurations: 8, 12, 16, 24, 32, 40, 48, 56, and 64 users
Supporting a maximum of 16 groups of conferences at the same time

- Network Interface
16 users or less: two 10/100M interfaces
24 users or more: one 10/100M interface, and one 10/100/1000M interface (electrical interface)

- Conference Rate
Up to 4 Mbps

- Video Resolution
QCIF (176 × 144)
CIF (352 × 288)
4CIF (704 × 576)
VGA (640 × 480)
SVGA (800 × 600)
XGA (1024 × 768)

- Continuous Presence
2, 3, 4, 9 and 16 pictures, N + 1 pattern style
Dynamic picture auto-trace
Speaker indicated by frame color

- Audio Features
Intelligent Audio Mixing
Mute and dumb control
Voice Active Detection

- Conference Functions
Conference template
Conference booking
Director control, chairman control, voice activation, auto polling
Endpoint join-in request, chairman request, speaker request, and chime-in request

- Cascade Conference
Supporting visual MCS software

- Caption
Conference caption scroll
Configuration and management in WEB mode
Caption entry or file load
Group sending or selective sending

- Dual Video Stream
H.239 dual video stream
Adjustable dual stream bandwidth allocation
Originate dual stream right setting

- Data Conference *
T.120 standard conference
Rate range: 64Kbps ~ 2Mbps
Whiteboard, application sharing, file transfer and multi-party chat
Supporting the access of a maximum of 32 parties
* This function module is optional

- Embedded GK
Endpoint registration
Address resolution
Call control
Bandwidth control
Regional management

- Network Adaptability
NAT/firewall transversal
IPLR
QoS (DiffServ, IP Precedence)
Access in multiple network sections
Multicast conference

- Security Features
H.235 conference encryption
128-bit AES encryption
Conference password protection, conference lock protection
Management User authentication and authorization
Multicast user authentication

- Management and Maintenance
Configuration in interface mode
Remote configuration/upgrade
System log

- Electric Features
Power consumption of integrated system: ≤ 50W
Power supply: AC (187 ~ 253V/47.5 ~ 52.5Hz)
Environmental Requirement
Ground resistance: ≤ 5Ω
Operating temperature: 0oC ~ 45oC
Operating humidity: 10% ~ 90% (non-condensing)
Atmospheric pressure: 86 ~ 106 kPa

- Physical Features
19-inch 1U rack
Height × width × depth: 44mm × 483mm × 310mm
Weight: ≤ 4.7 kg


Application:
MCU typically is deployed at corporations' headquarters. It is responsible for the connections with the endpoints and the switching, transferring and processing of audiovisual data streams of the conference. For large systems, Samcen's high-performance MCU (SCS-8000E) is recommended to provide connection and control at the headquarters. A typical network structure is shown in Fig. 1.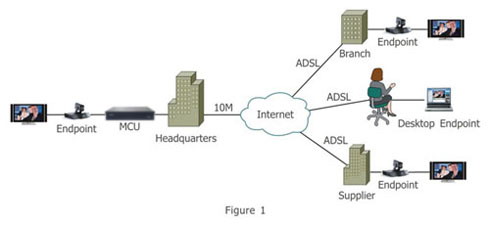 SCS-8000E has built-in gatekeeper and NAT/Firewall traversal capabilities. Therefore, no additional gatekeeper or proxy server is required. This has resulted in simple network structure, low investment cost and improved manageability.

SCS-8000E allows up to 64 conference connections and multiple conferences at the same time. Its powerful processing capability supports video synthesis, audio mix and auto transmission speed, achieving the highest videoconferencing performance.

In addition, the system's unique multiple ISP access function provides a solution to the bandwidth bottleneck in multiple ISP environment, as seen in Fig. 2.